Henri, Charles and Rene — brothers in the Huel family — can't remember a time when the University of Lethbridge wasn't a part of their lives. In 1974, their father, Dr. Raymond Huel moved his young family to Lethbridge after accepting a position as a professor in the U of L's Department of History.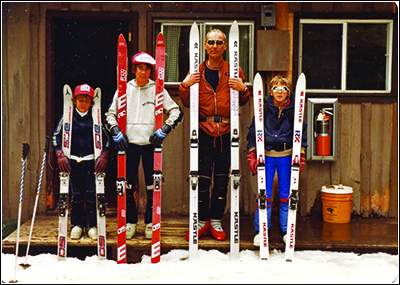 Dr. Huel would go on to have a long career at the University, even being awarded the Speaker Research Award in 2000 before retiring in 2003. But as he recalls, those first years comprised a special space in time. Having been established only seven years earlier, the U of L was still a young institution. Core foundations were coming to fruition. Research was being cultivated. The sky was the limit.
In following years, as the University gained momentum, the children in the Huel family were also maturing, in essence growing up alongside the U of L.
"I remember being a kid going to my dad's office, running around the halls," recalls René (BSc '98). "Whether it was attending sporting events or Faculty Christmas parties, the University has always been a part of us."
By the time Henri, Charles and René were ready to explore the next steps in their education, the U of L was coming of age. While maintaining small student to professor ratios, it was also a well-respected University receiving national rankings for its undergraduate programs. Already familiar with campus, the Huel sons naturally chose to enrol as students at the U of L. Henri, the eldest, was the first to complete a Bachelor of Arts in political science. René came next, graduating with a Bachelor of Science in biochemistry. Finally, Charles convocated in 2005, also with a Bachelor of Arts in political science like his eldest brother. All three speak fondly of that time. 
"I always tell people those were the best five years of my life. It was an unbelievable experience," says Henri (BA '94).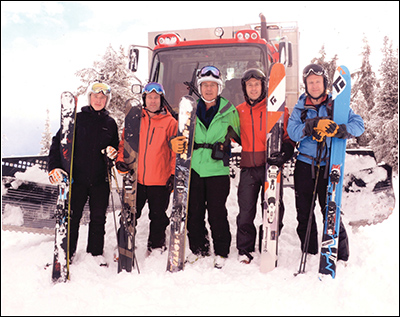 Following graduation, Henri and Charles started Rocky Mountain Hardwood and later All-Crest-Homes. While on paper, entrepreneurship may have seemed an unlikely route for two poli-sci majors, they credit their success in part to the education they received.
"A liberal education may not necessarily give you the skill sets for business, but it gives you the skill sets for learning, and that's what you do in business every day," explains Charles (BA '05).
"Most of our days are based around problem solving, dealing with people and meeting their needs. A liberal education teaches you to think in a different way and see a bigger picture. I may not use a lot of sociology, psychology or anthropology today, but the thought process remains the same. It transcends all disciplines."
It's a sentiment shared by Henri. "When people find out what we do for a living, they often are surprised by our past. But I don't regret my education. It's invaluable. It's done nothing but benefited us, as well as our clients," he says.
René, the youngest, took an entirely different direction and now works as the head of the DNA Laboratories for the International Commission on Missing Persons (ICMP). Currently based out of Rossland, B.C., his work frequently takes him around the world to places like Sarajevo, Bosnia and Africa.
"As one of the most advanced DNA labs dealing with human remains, we've been tasked with identifying
missing persons following the tsunami in 2004, Hurricane Katrina, and even in Canada we've assisted with various cases," explains René.
While René's occupation couldn't look more different than that of Charles and Henri, all three agree on two things: the education they received truly prepared them to take any path they chose, and the University not only shaped them as individuals but as a family.
"We all feel quite proud to be alumni of the University. It was a very unique experience in our lives," recounts Charles. "It's neat to go back, especially with my wife and kids. You can almost mark the passing of time through the change to U-Hall as it sits in the coulee, to see the new additions, the change in the buildings themselves and the change in the faculty —  you can see the progression of your own life through the life of the University. In that way, you actually see the living breathing function side of the institution which isn't always evident — as our lives evolved and changed, the University evolved and changed as well. We became intertwined with the institution, it impacted our family years after we had gone there and is still very much a part of who we are today."
Story by Jana McFarland.