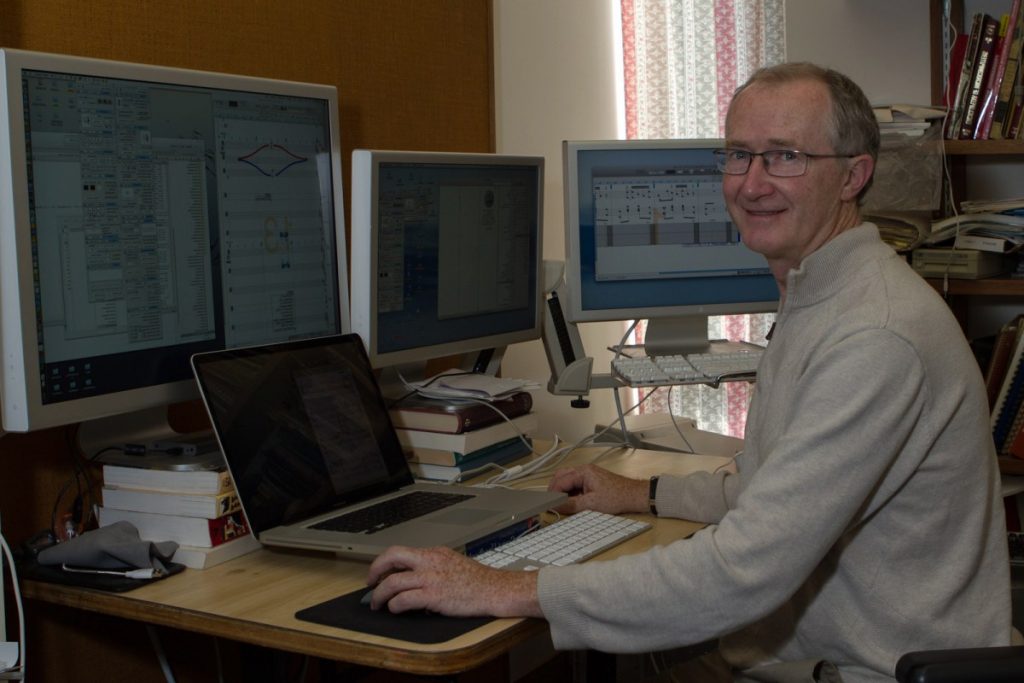 Dr. Keith Hamel is a Professor in the School of Music, an Associate Researcher at the Institute for Computing, Information and Cognitive Systems (ICICS), a Researcher at the Media and Graphics Interdisciplinary Centre (MAGIC) and Director of the Computer Music Studio at the University of British Columbia.
Keith Hamel is both a composer and computer music specialist. He writes acoustic and electroacoustic music, and his recent compositions focus on the interaction between live performers and computer-controlled electronics.
As a computer music researcher, Hamel is recognised as one of the foremost authorities on music notation software. He is author of the NoteAbilityPro software program which is used around the world for professional music engraving and publishing, and he has developed interactive environments for live performer and computer interaction.
Dr. Hamel has written both acoustic and electroacoustic music and has been awarded many prizes in both media. His works have been performed by many of the finest soloists and ensembles both in Canada and abroad. He has received commissions from IRCAM (Paris), the Ensemble Intercontemporain, Vancouver Symphony Orchestra, Windsor Symphony Orchestra, Vancouver New Music Ensemble, the Elektra Women's Choir, musica intima, New Music Concerts (Toronto), Hammerhead Consort, Standing Wave, Hard Rubber Orchestra, as well as from outstanding performers such as flutist Robert Cram, bassoonist Jesse Read, clarinetists Jean-Guy Boisvert and François Houle, saxophonist Julia Nolan, trombonists Jeremy Berkman and Benny Sluchin, and pianists Douglas Finch, Megumi Masaki and Corey Hamm.