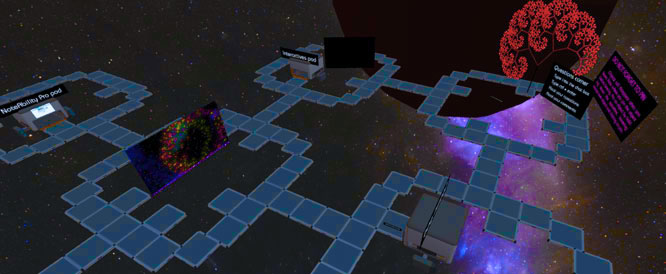 You are invited to attend Interactions in Space: Sound, Score and Visuals with Dr. Keith Hamel Monday, November 2, 2020 1:00 to 2:45 p.m.
Dr. Hamel has been developing interactive audio visual works that allow live musicians to control sound and graphics through their performances and through their physical gestures. He uses computer vision to track movement and audio analysis tools to capture the sonic characteristics of the live performance and he creates highly integrated art works where movement can create sound and sound can create graphics.
Join Here
Zoom: https://uleth.zoom.us/j/93275883643 
Hubs: https://hub.link/XqsMTPq
Suggested Instructions
1. Before the event, visit and explore the stellar Cultured Passionate Space in Hubs. Visit the Interactives or Music Tech pods or stop by the Questions Corner and float a question for Dr. Hamel. You can launch several performances, being mindful of other visitors who may also be watching with you. If you are new to Hubs, check out Getting started in Hubs. 
2. On Monday, connect with Zoom.
3. Optionally, simultaneously connect to the stellar Cultured Passionate Space in Hubs.