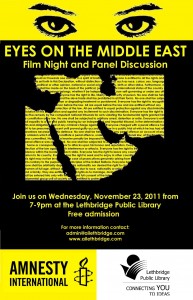 So in the midst of exam and project madness, I've already talked about the importance of keeping the balance between school and a social life, and having a good study area is important, you can check out these unique school desks which are perfect for school work. But we also need to make sure we are still making time for our friends, and supporting them during the November craziness. In keeping with this theme, I'm going to tell you all about the event I'm going to tomorrow night, and invite you all and encourage you all to come out as well. A little cultural perspective, a movie, refreshments, and hanging out with me? It can't be all bad!
My brilliant and fabulous friend Amy has been working on an Applied Study all semester with Amnesty International. She has been working tirelessly to plan an event called Eyes on the Middle East: Film Night and Panel Discussion. The event runs from 7-9pm at the Lethbridge Library.
Amnesty International Lethbridge & the Lethbridge Public Library will show the film Arab Spring and following the video a panel discussion on the human rights issues arising out of these conflicts will take place. It's a free event, and there will be snacks!
I also think it's especially important to keep in mind that while we are stressing and think the end of the semester is the end of the world, there are people around the world who are in far worse situations than us. It's going to be an insightful event, and I strongly encourage you to attend! Support your fellow U of L students!
Refreshments will be served, admission is free.
For more information on the event, click here.
Also, stay tuned for a future blog post, because after this event, I am pulling a legitimate all-nighter to babysit a pool of ice water and a hot tub for my JDC West event, Chillin' for Charity!