There are sometimes things that you do throughout your life that may change once you move to go to school. For me, it's horseback riding. Way back when I lived in Okotoks, I started riding jumping horses, and what started as a once-in-a-while pastime quickly turned into a full-out addiction. Soon I was at the barn numerous times a week, I worked cleaning stalls and working horse shows on weekends, and spent as much of my time with my "horsey" friends as possible.
Shortly before we moved to Claresholm, my parents bought me my first horse (an off-the-track jumper), named May. She was a gorgeous horse that taught me a lot about responsibility, as she needed to be fed twice a day, her stall had to be cleaned, and she had to be ridden (no all-inclusive boarding barns in Claresholm!). She was what led to my getting involved with 4-H and can totally be to blame for my constant source of poverty – horse shows cost money, there's always new tack/equipment/toys that can be purchased, and of course, vet bills. Unfortunately, as is common for off-the-track racehorses, May had some pretty serious joint issues that started to become a problem as she got older, and eventually, it was time for a new horse.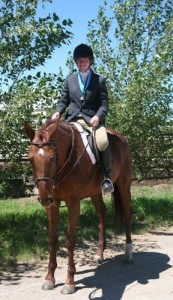 Through 4-H, I was able to get a loan and with the help of my parents bought a different kind of horse – Annie, a quarter horse rockstar who could do everything, and she marked my switch from English riding to Western (eventually the allure of jeans over breeches got me! And the pretty silver on all the equipment…).
With Annie, I had three years of riding almost every day (usually at 6am – before school), and learning a lot. We were pretty successful at the local horse shows, and when it was time for me to go to school and make a decision, I knew I had to sell her. I wouldn't have time to ride everyday, I couldn't afford to board her in Lethbridge, and there was no way my parents were going to look after her three times or more a day. It was a big decision, but I ended up selling her to a great family, and using the money I got from her to help pay for school.
This past weekend I volunteered at a horse show to help out, and it was an absolute blast. The point of this entirely long-winded blog is just to let you know that even as a poor student, you can still do the stuff you love. I have a friend who did Air Cadets, and he still gets to fly because he volunteers to help instruct the younger kids. If all else fails, you can always find a new, cheaper passion, like painting or singing. Just kidding – no matter what your passion is, there are still ways to be involved, even as a poor student. Sometimes it just takes a little extra creativity.